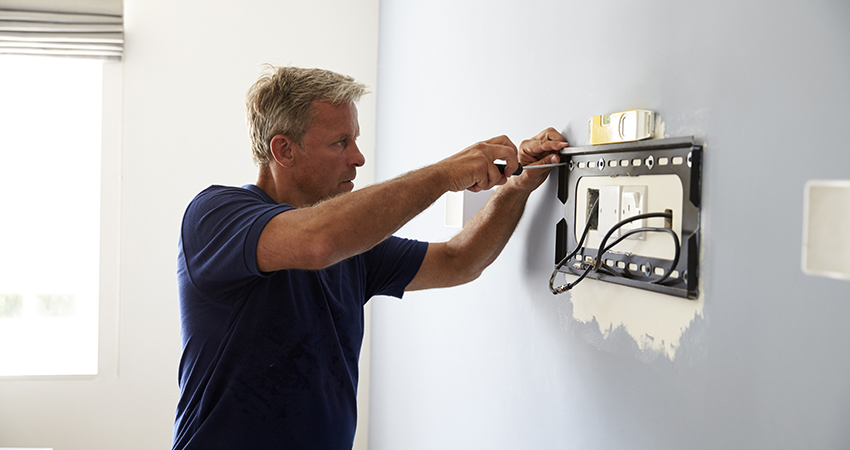 ASAP TV AV & Antennas Can Transform Your Space with Our TV Wall Mount Service
ASAP TV AV & Antennas can help you transform your commercial or residential space with our TV wall mount service. Our experienced staff have been helping our customers mount their televisions to walls for years.
Our Free Quote Service Can Help You Decide the Best TV Wall Mount Solution
When you call us for a free quote, we can chat to you about the best TV wall mount solution for your television and your space.
With our expertise, we can help you safely mount your TV to the wall. You can choose between either a TV wall mount parallel to the wall, or on an extended arm that allows you to change the direction the screen your television is facing.
No matter what option you decide to go with, you can be assured that our wiring and TV wall brackets are of the highest quality. We love helping our clients get the most out of their space, but most importantly we love giving them peace of mind.
As Part of Our TV Wall Mount Service, We Provide Everything You Need
As part of our TV Wall Mount service, we can provide you with everything you need.  Whether you're wanting a full video wall or a small TV in the bedroom or your boardroom, our experienced professionals can mount your TV properly and securely with the cables concealed for a sleeker look.
We can supply the brackets, cables and if needed we can supply the TV too.
ASAP TV AV & Antennas Are the Gold Coast's Audio Visual and Telecommunication Specialists
ASAP TV AV & Antennas have been a part of the Gold Coast community since 1994. Over the last few decades we have made a name for ourselves with our competitive prices and excellent service. No matter where we are or what we're doing, you can always expect a job well done.
We do more than just TV wall mount installations, we also take the time to educate our customers on their new technology. When we leave, you'll have the confidence and the know how to get the most out of your new audio visual or telecommunications setup.
For more information on our TV wall mount service, or for a free quote contact our experienced team.